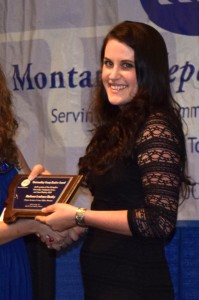 To recognize upcoming leaders in Montana's banking community, MIB honors one special young banker each year.  This scholarship is based on the community banking values of good citizenship, community service, and sound banking skills.  This award not only recognizes the impact that the candidate has in his or her business each day, but also the difference he or she makes by investing in their community. 
Eligible candidates are under 35 years of age and have worked for an MIB member bank for three or more years.  The winner receives free convention registration and three nights lodging at the  2015 MIB Annual Convention, $100 in travel expenses, an honor plaque to display in his or her office, and prominent mention in the MIB magazine and website. This year's winner is Madisonn Lemhouse-Huntley.
Madisonn Lemhouse-Huntley is a Management Assistant/ICBA Certified Internal Auditor at Pioneer Federal Savings and Loan in Dillon, and has been a part of that bank for three years.  "Energetic and diligent" with a "thirst for learning all aspects of the business" is how her coworkers describe her.
Madisonn volunteered with the Youth Connections Mentoring Program during her high school years as a reliable and enthusiastic mentor and positive role model for elementary students.  Madisonn has seen the fruits of these one-on-one relationships, as she has kept in contact with her mentees and has seen increased confidence, stability, and civic attitude in them over the years.
In her application, Madisonn wrote: "I believe being involved with Youth Connections Mentoring Program helps me better the community by knowing that the mentees are given a reliable and positive role model other than their parents.  The mentors learn the importance of community service and it gives them the satisfaction of knowing they helped shape that child's future."
Madisonn continues to participate in this invaluable organization by serving on the YCMP board of directors and organizing program fundraisers and Christmas parties, as well as drawing in more students and community members to become a part of YCMP.  "Madisonn is a valued asset to both our Board as well as our community," said Lisa Benzel, chair of the program.  "I fully believe she is a rising star for our program, our community, and likely your association."
Madisonn is also on the board of the Dillon Festival of Trees, which raises funds through silent and live auctions for a nonprofit organization each November.  She assists in preparing for and setting up the event.  "It is great to watch the community come together and help support each other.  It is great to be a part of a nonprofit that goes above and beyond to help other organizations to succeed," she wrote.  She has also assisted with the annual Wisdom Fun Run and participated in a recent Color Me RAD run.
As Spence Hegstad, Chairman of the Board at Pioneer Federal and Tom Welch, President/CEO of Pioneer Federal stated, Madisonn "exemplifies what our industry and communities are looking for in their next generation of bankers."