In order to help our member banks provide the highest quality education to their bank employees, the Montana Independent Bankers Association ("MIB") is pleased to offer a $2,500 scholarship to a graduate-level banking school of their choice for the 2017 year.
We received several applications this year, which were reviewed by a disinterested third party. Based on his qualifications, this reviewer selected Tyler Armstrong, Chief Credit Officer at First Security Bank of Helena, as this year's winner of the MIB Graduate Banking School Scholarship.
Tyler began his banking career at Mountain West Bank as a commercial credit analyst responsible for the Bozeman market. Early in his career, Tyler assisted Mountain West ma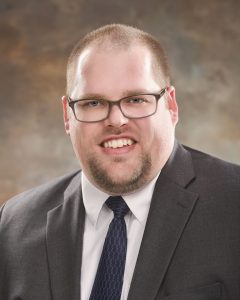 nagement in navigating a consent order to help bring the bank into compliance. Upon promotion to Consumer Loan Officer, Tyler expanded his responsibilities to include solicitation, approval, and management of a consumer loan portfolio. He continued to underwrite commercial credits and grew into managing an existing portfolio of commercial credits, as well as managed Bozeman market Other Real Estate Owned (OREO).
Tyler left Mountain West Bank to take an Assistant Vice President/Commercial Loan Officer position with Valley Bank of Belgrade, a division of Flathead Bank. While at Valley Bank, Tyler helped the bank work out from under its consent order. He also managed a serviced Montana Board of Housing and Montana Board of Investments residential mortgage portfolio.
Tyler took an active role in the formation and capital raise of Ascent Bancorp. Tyler moved to Helena as Ascent completed the final steps in the acquisition of First Security Bank of Helena. After the purchase of the Bank, Tyler began his current role as Chief Credit Officer. In this role, Tyler is responsible for the oversight of the lending department and credit decisions of the bank, while continuing to maintain a credit portfolio of his own.
Throughout his banking career, Tyler has held community positions both in his capacity as an employee and on a volunteer basis within his community. He has held board positions on Homeowner's Associations and with Chamber leads groups. Tyler also served as the president of the Bozeman Exchange Club. After moving to Helena to join First Security, Tyler became active in the Helena Exchange Club and as a volunteer with Boy Scouts of America.
Tyler wrote in his application:
"As a banker with over 10 years of experience, I am applying to graduate banking school to further my own education, strengthen my financial institution, and improve my ability to train the next
generation of bankers. I started out as a Credit Analyst, advancing through the consumer and commercial lending ranks, and currently work as a Chief Credit Officer at a small community bank.
During my time in banking, I watched banking activity peak, and subsequently come crashing down during the most recent recession. Working through credit quality issues at two banks under
enforcement actions informed the banker I am today. I have since watched the regulatory environment become more expansive and challenging to navigate. This is particularly true for small community banks. I believe that advancing my education through banking school will build on my existing educational and work experience, and will further prepare me to lead my organization through the ever-evolving regulatory environment. I am well-positioned due to the current size of our organization to help guide its growth in a smart, profitable, and sustainable fashion. It is my desire to grow and strengthen not only my organization, but to help intelligently grow and advance local community banking. By working together we can promote a favorable regulatory and economic banking environment in Montana."
Tyler is accepted to attend the Pacific Coast Banking School this summer. Congratulations, Tyler! We look forward to your continued excellent service to your community bank, your customers, and your community!