2021 Diamond Level Sponsors
JOIN US FOR MIB'S 54th Annual State Convention!
54 years of serving Montana's community banks and still going strong! Founded in 1967, MIB is the only association in Montana dedicated exclusively to serving Montana community banks and the only association affiliated with the Independent Community Bankers of America (ICBA).
MIB's Annual Convention & Tradeshow will be held July 22nd-24th, 2021 at the historic Northern Hotel located in Billings, Montana.
This year, we have the great privilege to be joined by Robert Fischer, ICBA Chairman. We will have convention favorite, Vernon Tanner from Crescent Mortgage Co., joining us.
As always, you will have the opportunity to personally interact with your community banking peers and colleagues during multiple functions, including the Thursday Welcome Reception and Friday Night Vendors Night Reception. Our Friday Night reception theme will be sports-related, so wear your favorite team's uniform or colors — be they blue and gold for MSU or silver and maroon for the Griz.
You can read the details of our agenda here.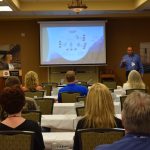 Other fantastic convention speakers include: Bill Elliott, presenting on "cannabis banking"; long-time favorite, Patrick Barkey of the University of Montana Bureau of Business presenting his annual state and national economic forecast; and Montana Commissioner of Banking Melanie Hall. In addition, we will have presenters from Keenan and Partners. Speaker biographies are found here.
Our Billings location offers unlimited family-friendly attractions you are welcome to enjoy during your Friday and Saturday afternoons. Friday sponsored events include our annual golf tournament at the Yegen Golf Club. Since 1992, the Yegen Golf Club has been one of Billings' premier public golf courses. The links-style course has matured into a challenging yet enjoyable destination for players of all abilities.
We will once again host an activity that was wildly popular with our attendees in 2019 — trap shooting. In addition, Billings offers a variety of recreational, historic, and shopping activities. Other activities you can reserve on your own are a trip to Pompeys Pillar, a tour of the Moss Mansion, and much, much more. Descriptions of these activities can be found here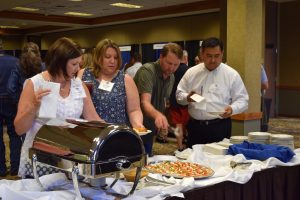 The MIB convention is frequently mentioned by our vendors and bankers as their favorite event of the year. This is due to our convention's warm, informal, and stimulating atmosphere. Our convention attendees savor excellent food and mingle with their banking friends during the various convention social activities. These activities include the Thursday Welcome Reception, the Vendor's Night Reception and Awards Night (with loads of prizes), the Saturday MIBPAC Silent Auction and Reception, and the Presidents' Banquet. Relationship building is a high priority at Montana's only community banking convention.
These are just a few reasons to attend this annual event. You come for the fun, but you leave armed with valuable information, strengthened relationships, and a game plan for business success.
Come Celebrate the past, present, and future of Montana community banking with us!
---
Hotel Reservations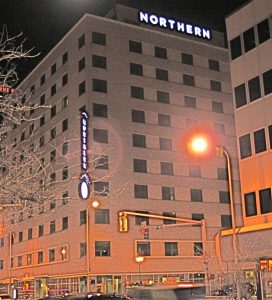 Guests at the Northern Hotel enjoy a home away from home in Billings.
The Northern has been a part of Billings' history for more than a century and is listed on the National Register of Historic Places.
The Northern Hotel's enduring story began in 1902 when P.B. Moss and Colonel Henry W. Rowley began construction on what was to be the most modern hotel in Montana. The hotel was completed in 1904, and enjoyed over three decades of prosperity, until the fall of 1940 when it burned to the ground in a sudden fire. But like a phoenix from the ashes, the Northern Hotel rose again, more sophisticated and beautiful than ever.
In 2006, the Northern was put up for sale and subsequently purchased in 2009 by the Nelson brothers, Mike and Chris. Through a visionary mission, the brothers brought the Northern back to life and, once again, made it the most modern and luxurious hotel in Montana.
The Northern Hotel has always been the place to meet and greet in Billings. It is and always has been the Hotel to host weddings, receptions, and other important social events in Billings. And because of this, The Northern holds a special place in the hearts of many!
The Place for Events
MIB has locked in room rates at 135.00 per night for king and queen guest rooms. Classic King suites are 185.00. These reduced rates will be available on a first-come-first-serve basis. Reserve your room at the Northern — Billings by calling (406) 867-6767 and mentioning "Montana Independent Bankers." Or you can click the link below to book your room online.
All rooms will be released on June 20, 2021, so be sure to reserve your room before this date. If the Northern Hotel is full at the time of your reservation, let us know, and we can refer you to other area hotels.
---
Registration
View and download the 2021 MIB Convention Brochure here! To register, select the appropriate or preferred option below:
Exhibitor Information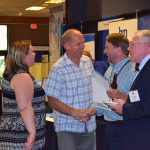 ---
MIB-PAC Silent Auction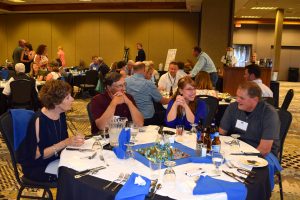 Help support community banking in Montana by donating an item to the MIB-PAC Silent Auction! This fun event is always a highlight at our convention, and it is the sole means for raising funds for MIB's political action committee. We use this money to support state candidates from both parties who are friendly to community banking, ensuring positive legislation for Montana's banks.
What Can I Donate? Auction items can be anything! Popular donations include hunting/fishing/outdoor gear, travel/vacation packages, jewelry and accessories, gourmet wine and food packages, electronics, Made-in-Montana goods, and any unique items from your area!
How Do I Donate? Simply complete this form and return it to Jim Brown at MIB. Be sure to indicate whether you intend to mail the item to MIB's office or hand-deliver it to the convention registration booth at Hilton Garden Inn — Missoula. Donated items can be mailed/delivered to MIB at 1812 11th Ave, Helena, MT 59601 before July 21st, or dropped off at the registration desk at the MIB Convention & Trade Show. Don't know what to donate but still want to contribute? You can also send a personal check to be used to defray the cost of the auction. Montana's community banks thank you for your support!
NOTE: Montana law prohibits corporate donations to PACs. All contributions, including donated items, must be purchased with PERSONAL FUNDS.